1) The Unmasked state. An icon and descriptive text appear in the Firefox status bar. No Firefox preferences are changed. You connect to the internet as you normally would.


2) Left-Click the icon to Put on your mask and browse anonymously. While an anonymous path is being established you will see the following image:


3) The Masked state. Once the anonymous path has been established, privacy preferences in Firefox are now enabled. Also, the IP address as you appear to destination web servers is shown. Click the icon again to revert to the Unmasked state.


4)Various error message may appear as shown below. See the Troubleshooting section for more information.




5) Right-clicking the text displays this menu:

6) Selecting More Information displays a dialog window where you can retrieve the likely city and country of the originating IP address.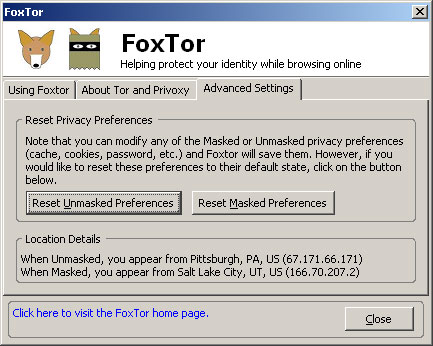 | Symptom | Problem | Solution |
| --- | --- | --- |
| | Privoxy is not running | Start the Privoxy application and look for the following system tray icon: |
| | Vidalia (and Tor) are not running | If you are using Vidalia, look for the following system tray icon: . Otherwise, start the Tor software manually. |
| | You appear to originate from the same IP address while Masked and Unmasked. This can happen if your proxy settings for Masked and Unmasked states are the same. | Reset your Masked and Unmasked Firefox preferences. 1) Right-click the extension text, select "More Information", 2) select the "Advanced Settings" tab, and press both Reset buttons. This will restore the original (default) firefox preferences. |
| An Unknown Error | The Tor network, itself, may not be responding. | Try stopping and restarting Vidalia (or your Tor software). If the problem persists, wait a few moments and try again. |