Symposium On Usable Privacy and Security
In-cooperation with USENIX
SOUPS 2015 will be held at Carleton University, in Canada's national capital of Ottawa, Canada.
On-Site Transit Information
The conference itself will be centered around the main Atrium (2nd floor) in the River Building. This building is on the left of the map below (click here or on the image to see a full PDF of campus).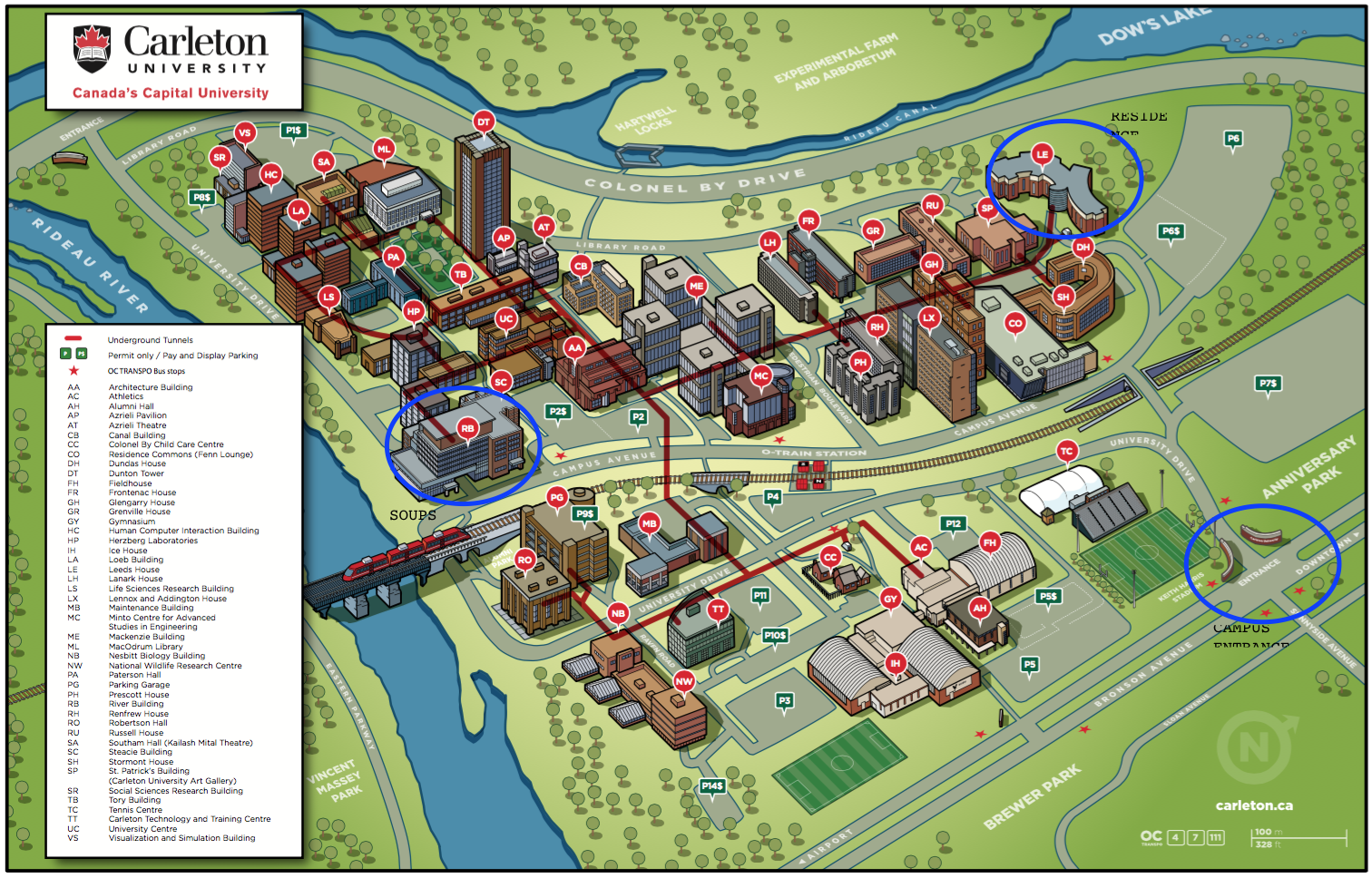 The map also shows the on campus residence housing and the campus entrance, circle in blue. Bus stops are shown as red stars. The campus also offers an campus map and directions on getting to campus.
Parking
P7$ = $8/day
P5$ = $11/day
P6$ = $11/day
P18$ =$11/day (new parking garage near P6, not on current map)
P10$ = $14/day
P9$ (levels 2/3 only) = $14/day
P16$ (under the River Building) = $14 per 4-hours
P2$ = $14 per 4-hours
The following map shows campus, the hotel, and the museum where dinner will be held (click here or on the image to see a full PDF of campus).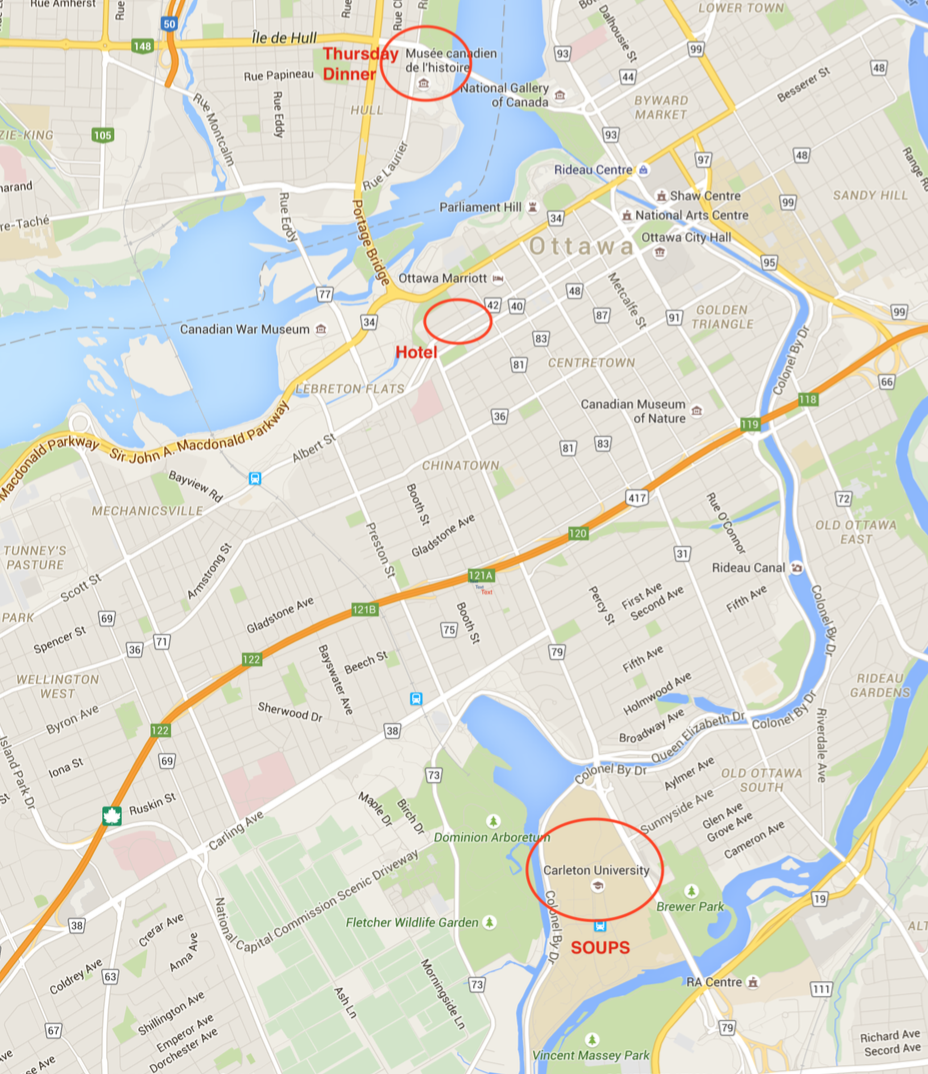 Housing
Updated! All housing dates have now passed. Please contact the hotel or residence halls for remaining lodging options, but all SOUPS blocks may now be out.
Hotel: We have reserved a block of rooms at a discounted rate at the Albert@Bay Suite Hotel (435 Albert Street, Ottawa), which is about 3.5 km from the conference site and on a direct bus line. Please contact the hotel reservation department directly and ask for the SOUPS 2015 negotiated rate of $130.00CDN plus taxes and fees. Rate applies to a One Bedroom Suite. This special rate will be available to you until May 22, 2015. Reservations can be made at 1.800.267.6644 or online at: https://bookings.ihotelier.com/bookings.jsp?groupID=1348665&hotelID=12399.
Updated! Dorm housing: As of now, please contact the reservation desk for any remaining availability at 613.520.5609 or summer.reservations@carleton.ca Note that the group rate may no longer be available and rooms may be in other residence buildings.
A block of rooms has been set aside on-campus in Carleton's residence housing. Rooms are configured in four-room suites with two bathrooms, and a living room and kitchen, as shown in this diagram. Thus, two rooms share each bathroom and four rooms share the living room and kitchen. Rooms are air-conditioned and have double beds. The rate is $61.70CDN per bedroom, per night, plus tax. The rate includes an all-you-can-eat hot and cold buffet breakfast.
The dorms come with bed linens, towels, cups, and soap. Shampoo and hairdryers are not provided.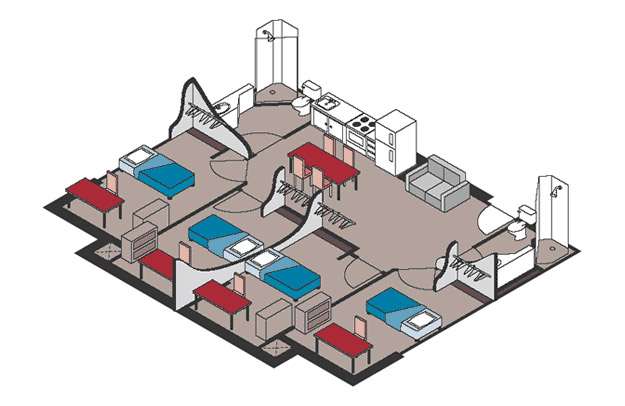 Call the Reservation Desk at 613.520.5609.
Credit card information is required to secure your reservation. To secure this rate, provide the SOUPS booking reference number: 1294. If you want to share a suite with a specific person, please book both rooms at the same time.
The following other options are also available until June 21, but these rooms may be in other residence buildings. These include all-you-can-eat hot and cold buffet breakfast.
- Room with two single beds, sharing bathroom with adjoining room: $80.85CDN per night, plus tax.
- Room with private bathroom, double bed (buy-out a 2-room suite): $123.40CDN per night, plus tax. There are a limited number of these rooms available.
Travel
The Ottawa International Airport (YOW) is a 10-15 minute drive away from Carleton University. Car rentals are available at the airport. A taxi costs approximately $20 from the airport to Carleton. Public transit is also available, the bus takes 26 min.
Two other major Canadian cities are also nearby. Montreal international airport (YUL) is a 2-hour car/train/bus ride and Toronto's Pearson airport (YYZ) is 4 hours' drive away. Both are less than an hour away by plane, with nearly hourly flights each day.
Getting to/from the Airport to Carleton University by public transit
One transfer is required. The total trip takes 20 minutes.
From the airport, take Bus 97 to Greenboro station (7 min)
From Greenboro station, take the O-Train to Carleton station (6 min)
Getting to/from the Airport to the Albert@Bay hotel by public transit
From the airport, take Bus 97 to Albert/Bay stop. The bus ride will take 34 minutes.
Getting to/from the Albert@Bay hotel to Carleton by public transit
Traveling between the Albert@Bay hotel and campus can be done with only one bus, no transfers. The bus runs from 6am to midnight. Frequency depends on time of day; it varies between 15 and 30 minutes. An exact schedule is available on the OCTranspo website.
From the hotel:
The bus stop is Albert/Bay on Albert street, just outside the hotel.
Take bus #4, direction Hurdman.
The ride is 12-14 minutes.
Get off at Campus/Common stop, on Carleton Campus
From Carleton:
The bus stop is Campus/Common, on Carleton Campus
Take bus #4, direction Rideau Centre.
The ride is 12-14 minutes.
The bus stop is Bay/Albert on Bay street, just outside the hotel.
Public transit
Public transit (OCTranspo) is safe to use in Ottawa. The OCTranspo website (http://www.octranspo1.com/) has a travel planner, schedules, and maps available. Ask the bus driver to confirm that you are on the right bus and to tell you when to get off, if you are unsure.
Fares:
One-way, cash: $3.45, no change given
One-way, tickets: 2 tickets
Day-pass: $8.10
Board the bus from the front door. You will get a receipt; keep it with you as your Proof of Purchase. Occasionally, OCTranspo workers will do spot checks and you will need to show them your Proof of Purchase or pay a fine. On-board screens will announce the upcoming stop. Press the button to signal to the driver that you want to get off at the next stop.

Tickets cost $1.55 each. Tickets can be purchased from the airport, the Quickie Mart next door to the Albert@Bay hotel, the University Centre at Carleton, or anywhere with the following sign:
Day-passes must be purchased directly from the bus driver on the day of travel. No change is given. A day-pass provides unlimited travel for the day.
Car Rental
Car rentals can be picked up at the airport. Reservations must be made 48 hours in advance. http://ottawa-airport.ca/getting-yow/car-rentals
Driving from the airport to Carleton University takes approximately 10-15 minutes. Depending on time of day, it is a 20-30 minute drive from the airport to the hotel.
Parking at Carleton
Parking is available on campus for a fee. Details are available here: http://carleton.ca/parking/visitors/ Fees range from $7 - $15 per day, depending on the lot. Fees can be paid at parking meters with credit card/coins. Parking passes can also be purchased/printed online ahead of time (you need your license plate number). Specific recommendations for which lots to use will be provided closer to the conference dates.
Parking at Albert@Bay hotel
The Albert@Bay hotel has a paid underground parking garage.
Ottawa
Ottawa is Canada's National Capital and has a population of approximately 1.2 million. The city is home to two large Universities (Carleton University and the University of Ottawa), Federal public service offices (including the Office of the Privacy Commissioner of Canada, Communications Security Establishment Canada (CSEC), Canadian Security Intelligence Service (CSIS), Canada Border Services, and Public Safety Canada) and many high-tech firms. Ottawa has more engineers, scientists and PhDs per capita than any other city in the country.
The weather in July averages daily highs of 26°C (79°F) and nightly lows of 16°C (61°F), with approximately 15 hours of daylight.
Ottawa has many things to see and do. The official tourism website has details lots of events and sights categorized by interests. A few highlights include: