Symposium On Usable Privacy and Security
In-cooperation with USENIX
VENUE
SOUPS 2014 will be held at Facebook Headquarters, 1 Hacker Way in Menlo Park, CA. Shuttle service will be provided between the conference hotel and Facebook HQ.
Parking:
For those driving in, enter our campus and use the free valet service at Building 10. Enter Building 10's lobby to register / check-in for all three days. We'll have a valet service near the entrance of Building 10 (follow the internal signs); please do not self-park your car. This service is complimentary and you do not need to tip the attendants (you can try but they will not accept gratuity).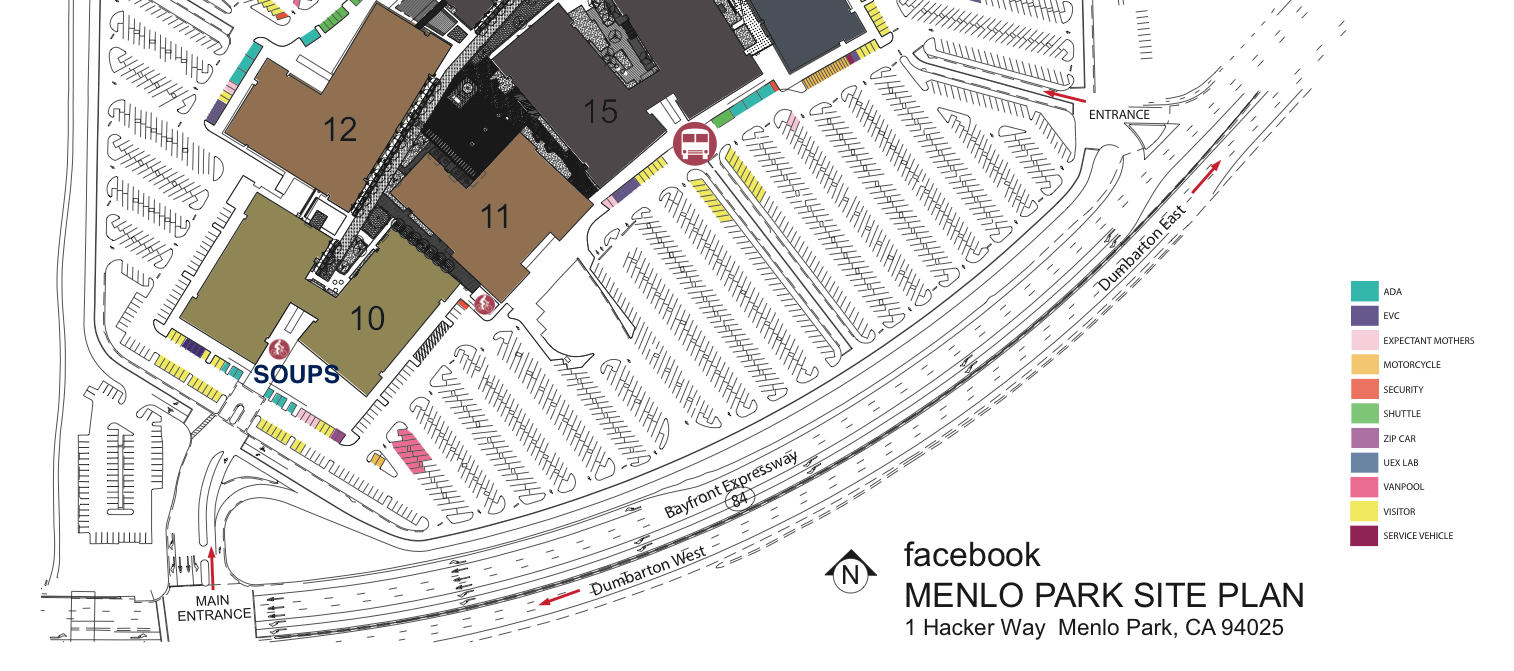 Ridesharing
For those of you who need to coordinate cabs, Ubers, or carpools: A Facebook group to coordinate rides for locals and folks who are staying in a hotel other than the Aloft: https://www.facebook.com/groups/704964239557562/
Travel:
Facebook is located approximately 20 miles from San Francisco International Airport (SFO), 17 miles from San Jose International Airport (SJC), and 25 miles from Oakland International Airport (OAK). All three airports are approximately 30-120 minutes by car to Menlo Park. Super Shuttle provides shared van service from these airports to Menlo Park and the surrounding neighborhoods. Reservations are required for OAK and SJC. Uber offers flat rates between local airports and "the Peninsula" that are less expensive than a cab fare, and UberX is an even cheaper alternative. Caltrain is another low-cost option, and is accessible from both SFO and SJC.
Palo Alto Caltrain (Downtown / University Ave.) to Facebook: Uber/UberX is your best bet for getting reliable transportation, cabs are sometimes available at the train station and at the Westin/Sheraton around the corner. There isn't a convenient way to get from the train station to Facebook via public transportation. For locals, it's a 20 minute bike ride from the train station to Facebook (the recommended route on Google Maps is a nice, easy ride).
Facebook's address is:
1 Hacker Way
Menlo Park, CA 94025
Hotels:
We have reserved a block of rooms at the Aloft Silicon Valley hotel, 8200 Gateway Blvd., Newark, CA 94560 (phone: 510-494-8800). Book your reservation online. King rooms are available for $150/night plus tax. Double rooms (two beds) are available for $160/night plus tax. Up to four people can stay in a double room and rollaway beds are available. The number of rooms is limited so reserve early. This rate is only available until June 8, 2014. All guestrooms are suites with kitchenettes. Included is complimentary self-parking, complimentary access to the 24/7 fitness center, and complimentary wi-fi.
The Aloft hotel is about 7 miles from Facebook. SOUPS will provide free shuttle service before the first session and after the last session each day between the hotel and Facebook. This shuttle can accomodate participants who reserved their rooms in the SOUPS room block. If you did not reserve through the SOUPS room block but would like to use the shuttle, please email ttodd@cs.cmu.edu.
Morning shuttle schedule: The shuttle will leave the Aloft at 7:30 and 8:30 am on Wednesday, Thursday and Friday.
Evening shuttle schedule: The shuttle will leave Facebook at 7:15 and 8 pm on Wednesday. On Thursday it will leave at 5:15 pm to go to the SOUPS dinner, and will leave the restaurant at 8 pm and 8:45 pm to return to the hotel. On Friday the shuttle will leave Facebook at 5:15 and 6 pm to return to the hotel.
Parking will be available at Facebook for attendees who wish to drive.
Local Attractions
The city of San Francisco is about 30 miles away, accessible by Caltrain. More locally, Stanford University is nearby in Palo Alto, and University Ave in Palo Alto is a good place to grab a bite to eat or a drink.
For further assistance with registration or arrangements, please Contact Tiffany Todd - email: ttodd AT cs DOT cmu DOT edu
For questions about local childcare or activities for children, please contact Maritza Johnson - email: maritzaj AT fb DOT com