Symposium On Usable Privacy and Security
VENUE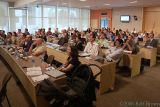 SOUPS 2008 will be held on the campus of Carnegie Mellon University in Pittsburgh, PA. Carnegie Mellon is located approximately 22 miles from the Pittsburgh International Airport.
Most SOUPS events, including registration, will take place in the Collaborative Innovation Center (CIC) at CMU. CIC is located at 4720 Forbes Ave. If you are travelling East on Forbes Ave., CIC is the first building on the right as you enter the CMU campus area. SOUPS lunches will be held in another building. Since you will have to walk outside to get to lunch, we recommend that you bring an umbrella in case of rain.
Hotel: A block of rooms has been reserved at the Holiday Inn Select - University Center, which is located about three-quarters of a mile from CMU. Register by July 1, 2008 for the conference rate of $119/night. Ask for the "SOUPS CONFERENCE" rate.
Dorm housing: A block of rooms has been reserved in the Carnegie Mellon Resnik House residence hall, which is located on campus. Double rooms (suitable for 1 or 2 people, shared bathrooms in each suite of rooms) are available at the rate of $59/night. Rooms must be reserved by July 9, 2008. Only a small number of rooms are available, so reserve early if you are interested in this option. To make your reservation call 412/268-1125 or email confserv@andrew.cmu.edu and let them know you are with the SOUPS group.
The CMU web site has a list of other nearby accommodations.
Hotel shuttle and parking: The hotel will provide a free shuttle to CMU. The shuttle leaves the hotel every 30 minutes from 7:30 am to 9 pm. The hotel charges $17/day for parking. Parking on campus is available in the East Campus Garage ($8/day), and in the garage below the CIC building ($16/day). If you wish to park in the CIC garage you must approach the building from S. Neville St., which passes under Forbes Ave. (see driving directions). We recommend that you walk to campus or take advantage of the hotel shuttle. If you plan to take the hotel shuttle, be aware that there may not be enough room for everyone on the 8:30 am shuttle, so consider taking the 8 am shuttle.
Child care: The Carnegie Museums, located right next to CMU, offer week-long camp programs for children age 4 and up. Programs for children age 6 and older are full day, with optional pre-care and after-care. Past SOUPS attendees have found this to be a convenient child care option that their kids really enjoyed. Camp registration information for the Carnegie Museum of Natural History Camp Earth and the Carnegie Museum of Art Art and Architecture Camps is available online. For assistance in making other child care arrangements in Pittsburgh, please contact the SOUPS general chair.
Pittsburgh: There is lots to see and do in Pittsburgh. The Carnegie Museum of Natural History, the Carnegie Museum of Art, the Phipps Conservatory and Botanical Gardens, and the Cathedral of Learning Nationality Rooms are all within walking distance of the Holiday Inn.
For further assistance with registration or local arrangements, please Contact Jennifer Lucas - phone: (412) 268-9870 - email: jmlucas AT cs DOT cmu DOT edu
SOUPS is sponsored by Carnegie Mellon CyLab.